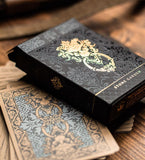 LPCC Sample Pack 2022
A 4-deck sample pack for our print customers who want to feel the various offerings from Legends PCC and discover range of high-end packaging techniques. For even more in depth knowledge, here is an article comparing our paper stocks and coatings to other manufactures. Link to article. 
COPPERHEAD- Viper Finish, European Origin - Ultra Thin, PRC Printed 

Our newest offering. Named for the silky feel with a unique smooth, dry, yet slippery texture: a similar feeling to running your hands over the scales of a snake. Viper Finish is the goldilocks of feel, handling, and durability.

The Feel: Viper Finish blends the thinness of the out-of-print Master Finish, with the medium-soft flex and feel of the popular but rare Stud Finish. All of these advantages without destroying the fibers of the paper by crushing the stock, which can make a deck feel great, but weaken the paper and makes them much less durable and snappy. If possible, it is better to "crush" the fibers at your own pace by breaking them in with regular use. Your decks will last longer and feel just how you want them to.
As a bonus, Viper Finish is highly resistant to changes in humidity, so you don't get that 'pop' in the deck when you fly or travel to a dry climate, and the cards don't inflate in humid climates like Singapore or Hong Kong. A truly new feeling card stock like nothing else on the market, and over 10x as long lasting as Bee or Bicycle branded decks.
SPECIALS - Classic Finish Pre-Crushed, European Origin - Printed in PRC

Our most popular paper, discovered by Legends PCC nearly 10 years ago.

The Feel: Soft and papery feeling, medium-flex. They feel perfectly broken in right out of the box, with consistent and even fans. The embossing pattern is similar to USPCC's "Air Cushion Finish", however they are cut with our super smooth and perfectly registered 'Diamond Cut' edges. Classic Finish is about 3x as durable as a USPCC Bicycle or Bee branded deck. They may cost a bit more, but they don't wear out nearly as fast, nor do the edges blacken when subject to light moisture like condensation on a glass of ice water.

Specials also feature cold foil card backs with overprinting, and a custom designed tuck box, engineered by LPCC and available to any of our print customers. 
ZODIAC 2021 - LASER CUTTING, ultimate precision for designers.
Laser cutting. We make it easier than ever for you to add this technique to your custom print run of 900 decks or more. LPCC pioneered custom tuck box die cuts with our Legends #852 v.2 tuck nearly 10 years ago, and laser cutting takes this idea to the extreme. Cut intricate patterns into your tuck box, or add hidden card reveals!
STONE GARDEN v.2 - Ultra-thin full-foil, double sided
Tuck - 3D embossed, with interior and exterior hot foil stamping.
For experienced artists only - Full foil is a brand new process that gives decks a shine like nothing else on the market, all while handling like normal deck of playing cards. 
A new printing technique called full foil / mylar lamination that we have finally perfected over the past few years. Typically it was used on trading cards but never on playing cards because it took a lot of research to get the cards to handle the same if not better as a typical deck. It is very shiny and we laminate the material to the entire face of the card sheet, typically in silver or holographic color. Then you can print colors on top or the shiny material in CMYK.
We have an ultra-thin version, exclusive to Legends, and also we can use black or another color of paper in between the lamination if you use double sided lamination. See the popular  STRATOSPHERE with Ultra Black. 

ADD-ON decks 
(drop down list in add to cart)
LEGACY CARD STOCKS - not included in the sample pack but you can add these if you are curious or want to sample other packaging options.

Below are legacy papers that are very limited in stock and availability, however the packaging on these decks is a good reference of our capabilities. 

Legends Celtic Edition #353 - (Master Finish, French Origin) Printed in PRC
Identical card paper to Latitude, printed in different location. Hard flex, stiff, thin paper (thinner than a Bicycle deck, and stiffer). Designed for working professional magicians or poker players. Over 10x as long lasting as Bicycle Air-Cushion Finish. Embossing is similar to "Air Cushion Finish" with our super smooth 'Diamond Cut' edges. Special features on tuck are cold foiling with overprinting, note the extremely precise registration that cold foil provides, only available at our newest facility.
Stone Garden - (Stud / Cardistry Finish, French Origin) - Printed in PRC
Printed in Dec, 2020 at our newest facility with USA sourced coating and new heat tunnel
Our most flexible / softest paper yet. Very low stock left. Buttery and smooth feeling and slightly more durable than Classic Finish. However due to the nature of the paper, solid colors will not print as dark and evenly as on our other paper stocks as it has different absorption qualities. 
*decks might vary from above, but we will try to include one of each paper stock for your samples. If you have any questions please email us in the same email thread where you received this link.
RAINBOW DECK

A complete deck with every card coming from a freshly opened pack of cards, with many from Legends PCC print runs. All the cards have white borders. 
Great for designers looking for inspiration, or magicians wanting a special deck for rainbow deck effects.
Each deck comes with the following:
1 tuck box at random from one of the cards in the set
52 cards to make an entire complete deck, but all with different card backs
No jokers
We are looking forward to printing a Legendary deck of playing cards with you!