IMPROVING THE PLAYING CARD
Legends' card stock was born out of a frustration with the subpar quality of 'premium' playing card brands, which are often flimsy and poorly cut. Lawrence Sullivan, an American with a lifetime of experience handling playing cards, took it upon himself to raise the bar on playing card standards. Lawrence's extensive travel and language skills, coupled with a firm grasp of product sourcing, coalesced into a defining moment in playing card history: the creation of Legends #852.
MAKING LEGENDS #852
Setting out to perfect a tradition meant intervening in every single detail of the production process. Legends #852 sold out its inaugural print run of 11,000 decks in days and became highly coveted among collectors, magicians, and poker players for its "glass-like" edges, durability, and printing precision. Word spread quickly, and the second edition of Legends #852 sold out in under two hours.
Following the release of Legends #852, Legends Playing Card Co. teamed up with Bill Kalush to print a deck of cards named 'Exquisite' for his Expert Playing Card Co., which is now one of our close partners.
"One of the most beautiful decks ever printed."

"They are sure to be collectors items soon."

"There is almost a "magical" grip to these cards that fan and separate incredibly smooth when you want them to but stay together when you want them to."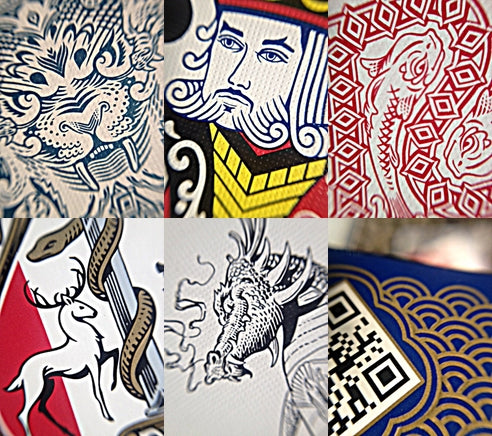 WORLD-CLASS ARTISTS
The world knows beauty when it sees it. For our signature line, we teamed up with Mark Stutzman, referred to us by David Blaine. Now we work with a handful of illustrators to create original artwork.
Sullivan's concept behind Mark Stutzman's artwork for Legends #852 was to create something bold, yet filled with detail. A unique blend of Asian and Western mythology, Sullivan and Stutzman eschewed the minimalism or trendy pop art that typically adorns custom decks, integrating a classically ornate look with modern elegance.
EXPANDING OUR LINE: PREMIUM ACCESSORIES
Our primary focus is producing the world's finest playing cards for high-end clients and corporations around the world, people that appreciate quality.
Our vision for the future is to expand the Legends brand with our premium accessory line, producing luxury playing card accessories for enthusiasts and magicians. Based in Asia, we are well equipped to handle a wide variety of projects.
Leave us your email below if you want to keep updated on our future projects.