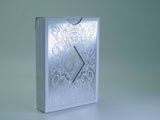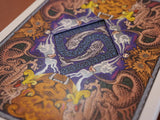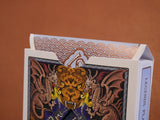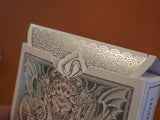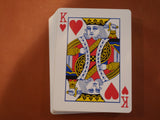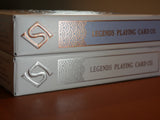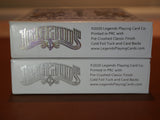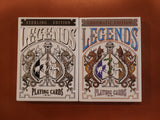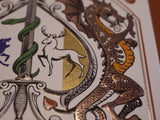 Sterling & Chromatic
A DESIGNER'S DREAM
Chromatic and Sterling: a perfect pairing to illustrate one of the worlds most exclusive printing techniques, Cold Foiling. Typically reserved for cosmetic brands and luxury goods packaging, at Legends we masterfully apply this rare printing technique to playing cards and packaging.
In the Sterling Edition, Mark Stutzman's original artwork from the famed Legends #852 deck is re-imagined by our long term customer and friend Paul Middleton at JP Games, and designer extraordinaire Randy Butterfield with the Chromatic Edition. Though w typically don't like to re-print new colorways, Legends is using these decks to educate designers and artists to the magic and versatility of Cold Foil, and the best way to do that is to compare it with our previous Legends' releases. 
Print any color of the rainbow on top of Cold Foil and see it shine, the possibilities are endless!
CHROMATIC EDITION - Silver Cold Foil base layer, with CMYK printing on top of the cold foil and the white tuck box paper.
STERLING EDITION - Identical Silver Cold Foil base layer with BLACK printing on top
ABOVE - See how we printed black ink on top of the block of silver Cold Foil to create the text 'STERLING EDITION' and on the left with blue and orange ink to create 'CHROMATIC EDITION'. This allows us to print the expensive cold foil in one print run, and the colored inks on top in 2 batches which saves on costs and allows for two highly precise foiled tuck boxes.
Though expensive and not as shiny as Hot Foiling, Cold Foil has a certain subtle elegance that is refined and sophisticated. For our custom deck customers, we can print cold foil decks with a 5 week lead time for custom orders of 800 or more - which is unheard of for printing standard casino grade decks, let alone ones with Cold Foil.
These decks are printed on our newly developed Pre-Crushed Classic Finish. A softer and more supper feeling deck than Classic Finish. Not quite as durable and long lasting as Master Finish, but flexible and fun feeling right out of the box. 
EXPANDED STRIPPER DECK - a world first and available to all of our print customers as well, add 100 or more factory cut stripper decks to your custom deck orders for the same price as your custom decks. 
For the magicians out there, we made a factory cut stripper deck variant for you. Not just any stripper deck, an EXPANDED stripper deck at .5mm wider and taller than a standard deck of cards, and cut with our world renowned LPCC Diamond Cutting process, using diamond materials to sharpen our tooling. Imagine the possibilities. Only 100 available per version. If you want a Master Finish (stiffer and thinner card stock) variant check out our Celtic deck. More information coming soon.
Print Quantity:
 2,000
 decks STERLING, 1,000 CHROMATIC (with 100 stripper decks per version)
Card material:
 PRE- CRUSHED / CLASSIC
 FINISH
Custom black core European casino grade card stock
Card coating: LPCC #201901 USA produced / water based
Card cutting:
LPCC Diamond Cut / Traditional
Card backs: Cold Foil (Sterling), Cold Foil + CMYK (Chromatic)
Card faces:
Standard American faces
Tuck exterior:
 Cold Foil with overprinting
Manufacturing facility:
CELT Co. - 
exclusive
partner factory
 with newly installed heat curing tunnel in 2020 / China