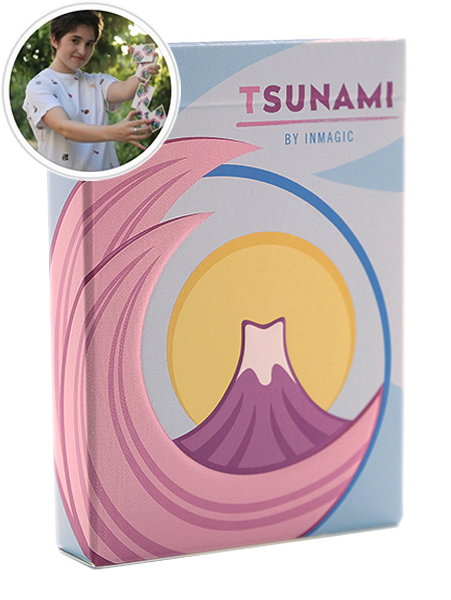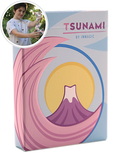 TSUNAMI by @_inmagic_
The first deck release of the prolific, charming, and inspirational magician and Tiktok superstar @_inmagic_ with over 10 million followers and counting! 


Legends is proud to be working with talented young artists who are bringing magic to new audiences around the globe.

To help conquer your fears of performing magic, TSUNAMI v.1 card backs have a sophisticated marking system to identify each card. Learn the secret 
here
.
An description of the inspiration behind TSUNAMI from Inma In Spanish (English below):
Todo el mundo tiene miedos. Unos más que otros, pero al fin y al cabo todos le tememos a algo. Los magos suelen tenerle respeto a hablar con gente desconocida por la calle para hacerles magia, porque tienen miedo a que le rechacen.

Inmagic siente un gran miedo al estar cerca del mar, ya que piensa que surgirá un terrible tsunami.

Ahora mismo, está en proceso de superar ese gran miedo, y por eso te presento la baraja TSUNAMI. Enfréntate a tus miedos con esta increíble baraja y sal a la calle para hablar con desconocidos sin miedo al rechazo.
Si Inmagic puede, tú también lo lograrás.
Translated into English;
Everybody has some element of fear in their lives, some more than others. Most magicians start with a fear to approach strangers and perform. 

I have a deep fear of the sea, because I feel that a terrible tsunami may arise.

Right now, I am in the process of overcoming that great fear, and that is why I present to you the TSUNAMI deck. Face your fears with this incredible deck, go outside to talk to strangers without fear of rejection.

If Inmagic can do it, you can too.
--
Follow below for more magic and inspiration!

@_inmagic_ (Tiktok)
TSUNAMI is printed on our ULTRA-THIN, all new VIPER FINISH™  card stock. Feel the difference of a Legends PCC printed deck!
Print Quantity: 1,000 decks (1st edition)
Card coating: LPCC #202100 USA produced / water based
Card cutting: LPCC Diamond Cut / Traditional
Card backs:
Cleverly marked for magic use
Card faces: Faces - Standard American, Pantone 4c. Custom color based on Inma's personal style With custom Jokers and Ace by Randy Butterfield of @midnightcards
Tuck exterior: Semi-gloss, externally coated tuck box for vibrant color reproduction. With multi-level embossing. Designed by Randy Butterfield of @midnightcards
Tuck interior: No printing. Matte uncoated interior.
Manufacturing facility: Legends PCC e

xclusive

 

partner factory

 with newly installed heat curing tunnel in 2020 / PRC.