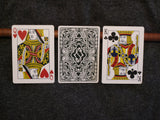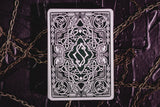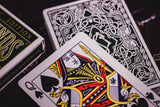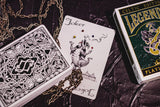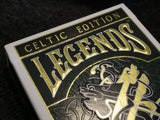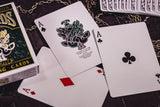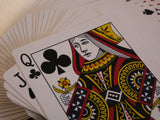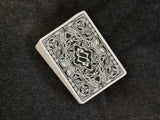 Legends - #353 Celtic Edition
INTRICATE AND PRECISE
Continuing the Legends tradition of sporadic in-house decks, each with a new feature or print technique we want to showcase to playing card and art lovers. 
Stuart Palm's custom artwork, LOBA treated, Pre-Crushed Master Finish card stock, and a Cold Foil tuck box with multi-level embossing is what are are showcasing for the #353 Celtic Edition. Cold foil rolls onto the tuck just like an imprint ink, it is perfectly registered and doesn't have any noticeable shift which can occur when hot stamping foil onto a tuck box or playing card sheet. The cards are a bit clumpy feeling out of the box, and not super smooth like Classic Finish, however they break in well and stay stiff and usable for longer.
Take a look at the fine white line around the LEGENDS multi-level embossed logo, there is no shift or miss-alignment which could occasionally occur on our #202 Egyptian Edition deck with Gold Foil Hot Stamping.
Though expensive and not as shiny as Hot Foiling, Cold Foil has a subtle elegance that is refined and sophisticated. We can print decks and tucks with this process with a 5 week lead time for custom orders of 800 decks or more - which is unheard of for printing standard casino grade decks, let alone ones with cold foil.
We finally nailed the face card artwork, remastered from a vintage SPCC deck with modern day enhancements and sharp numbers, we think they are perfectly spaced and legible for working card magicians and poker players, without looking too different than a modern American deck of cards.
Sealed with a re-imagined vintage stamp, we made it perforated so you don't get messy sticky bits on your hands and the box. For the collectors out there, who recognizes this tuck box design? Long flap, symmetrical construction... maybe it should have a blue seal instead of green? Constant testing of new and old packaging is the hallmark of Legends, it's all in the details!
We hope you enjoy this subtle release as much as we do. 
EXPANDED STRIPPER DECK - a world first
The factory cut stripper deck variant is an EXPANDED stripper deck, .5mm wider and taller than a standard deck of cards. Cut with our world renowned Diamond Cutting process.  Imagine the possibilities. Only 200 available for this deck, and if you want a Classic Finish feel expanded stripper deck, check out our Sterling and Chromatic decks.
DETAILS
Print Quantity:
 2,000
 decks (1,800 standard, 200 stripper)
Card material:
 LOBA treated PRE- CRUSHED / MASTER
 FINISH (thin stiff, durable)
Custom black core European casino grade card stock
Card coating: LPCC #201901 USA produced / water based
Card cutting:
LPCC Diamond Cut / Traditional
Card backs: 1c pantone
Card faces:
LPCC remastered vintage Standard PCC faces- 5c pantone
Tuck exterior:
 Cold Foil with overprinting
Printing press:
 Tuck Cold Foil (Roland) / Cards (KBA)
Manufacturing facility:
CELT Co. - 
exclusive
partner factory
 with newly installed heat curing tunnel in 2020 / China