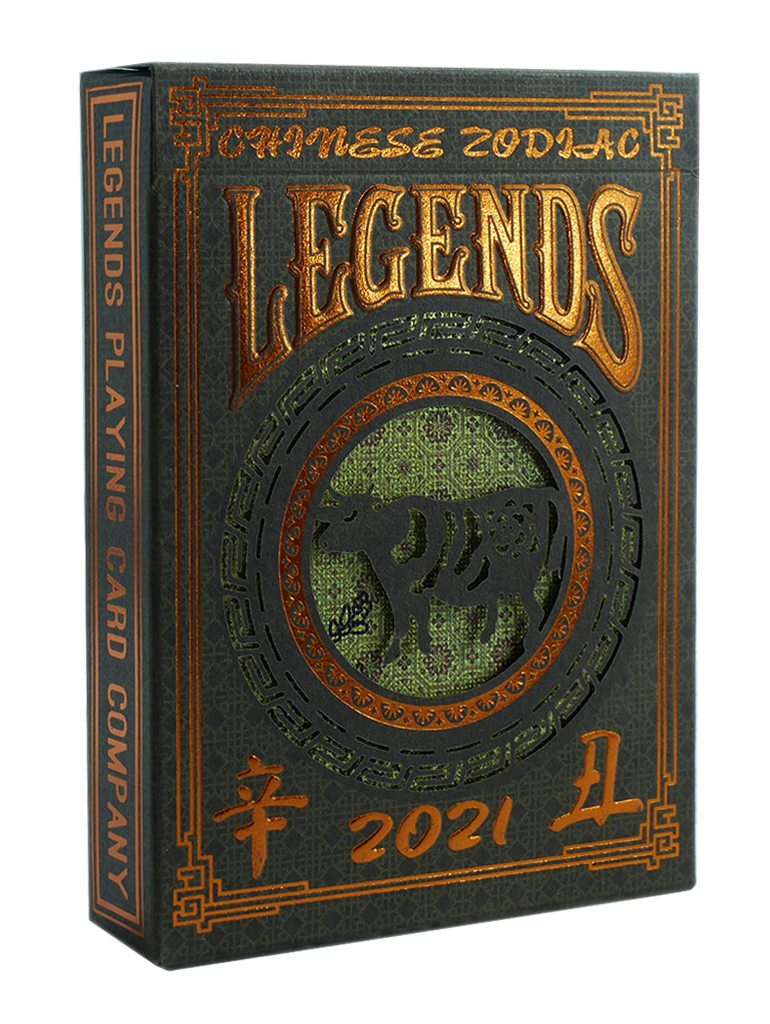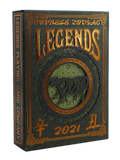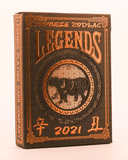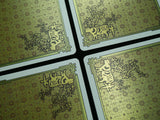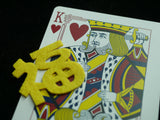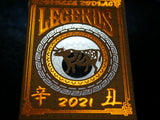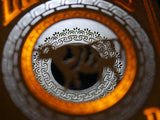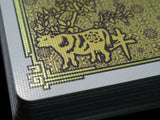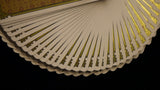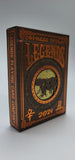 ZODIAC 2021 - Year of the OX
LASER CUTTING, ultimate precision for designers.
Extremely limited to 1,500 units sold this year (2,000 total). Will never be re-printed. With cold foil card backs and semi-custom faces, this deck release showcases many new possibilities for high-end playing card packaging and production.

Laser cutting. We make it easier than ever for you to add this technique to your custom deck print run of 900 decks or more, with priority going to our previous customers. LPCC pioneered custom die cuts with our Legends #852 v.2 tuck nearly 10 years ago, and laser cutting takes this idea to the extreme. Cut intricate patterns into your tuck box, or add hidden card reveals!
Kaolin Finish. We procured 6,000 sheets of a very special ultra-rare Japanese-origin paper. It features an extremely precise grid-like embossing pattern and different feel than our other paper offerings. The paper specs impressed us, so we decided to give it a shot with our custom made-in-USA coating and Diamond Cut edges. We were very pleased with the results! 
"the cards fan perfectly out of the box, with a very light touch"
The feel. Firstly you will notice that the cards are lighter than Classic Finish, yet they are nearly the exact same thickness. The cards fan perfectly out of the box, with a very light touch. Remarkably, this 'fanability' is even improved over Classic Finish, which we didn't think would ever be possible as Classic Finish feels perfectly broken in right out of the box. Kaolin Finish is slightly stiffer than Classic Finish, and does not last nearly as long as the ultra-durable VIPER FINISH™. Please subscribe to our newsletter for more news about out latest projects, and if you like the paper or have any comments, please let us know!
Uncoated brown tuck paper, which we printed a light pattern with metallic ink, followed by hot foil stamping and laser cutting, then packing and shrink wrapping with a gold tear strip. Overall, a luxurious feeling package with stunning technical feats never seen before in playing card production. 
"stunning technical feats

     never seen before"
Cold foil card backs. Intricate and precise. Not as shiny as hot foiling or full-foil applications, but subtle and extremely accurate, for experienced deck designers.
This printing of Cold Foil is applied on-press in a giant silver roll on the 1st station of the press, and and we overprint the yellow and green hues to give it that golden shine, an expensive, but elegant and precise process.
The artist, Alvin Cheung was commissioned by LPCC to design this beautiful deck. The circles on the card back create an optical illusion where the squares are more subtle in the background. Very subtle but clever and meaningful design. He created a clean yet modern Chinese style, with squares being more associated in Chinese patterns and architecture. Wonderful execution and we hope to print the entire set of 12!
Extremely limited to 2,000 units. Will never be re-printed.
Print Quantity:
 2,000
 decks (~1,500 for sale in 2021)
Card material:
 KAOLIN
 FINISH
Ultra-Rare Japanese origin casino grade paper stock
Card coating: LPCC #201901 USA produced / water based / heat cured
Card cutting: LPCC Diamond Cut / Traditional
Card backs: Silver Cold Foil with CMYK overprinting
Card faces: Custom art - 4c
Tuck exterior: Laser cutting. 3D embossing. Hot foil stamping. 1c Metallic ink.
Manufacturing facility: 
CELT Co. - LPCC
partner factory
 with newly installed heat curing tunnel in 2020 / China