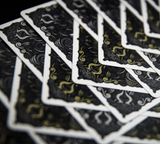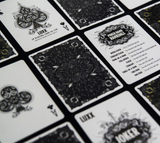 V2 LUXX® Shadow Edition
The sequel to the popular LUXX® decks, designed by Randy Butterfield for JP Playing Cards.
All 400 decks sold through LEGENDS will have holographic seals, and will include a free LUXX® brick box if ordered in a brick.
For the V2 LUXX® Shadow Edition set, the aesthetic took a darker and more elegant turn, with black hot stamped foil and silver/gold accents. This dual foil, coupled with a sturdy tuck box, creates a long lasting deck of cards with the excellent feel of our Diamond Finish card stock.
Quoted from JP playing cards:
Following on from our hugely successful release of the original LUXX Playing Cards in August '14 we're proud to announce the second edition LUXX are just around the corner. We've worked hard with Randy and Lawrence (Legends Playing Card Company founder) to bring you another beautiful deck, with a lower price and new features. 
The shadow theme for the second edition means we've gone with a darker feel, coupled with lovely metallic inks. 
The tuck is made of the same thick stock you loved from v1. A shimmering black foil twinned by a beautiful gold and silver accent foil makes this packaging look and feel unique, the inner is laminated for a unique look and feel. 

The card backs feature the same intricate design from Randy we all loved, but based in tones of grey and black with silver and gold metallic inks. The shading creates a very cool effect when spread and fanned. 

The courts and pips are the same cool design from v1 - traditional with a twist. The four colour suits have been replaced with metallic red and golds. 

As per v1, the shadow edition extra cards are one joker and a poker hand rankings guide - we want this deck to be used and for you to enjoy playing card games with. A deck to bring a wow-factor to your home poker game!