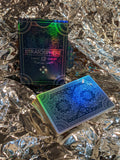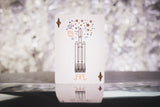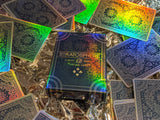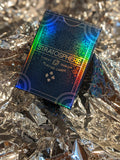 STRATOSPHERE
SOLD OUT
OTHERWORLDLY PLAYING CARDS
Legends PCC uses space-age materials and techniques to create a custom deck of cards that is worthy for a trip to Mars on Space X's Falcon Heavy!
Originally researched and printed in 2016 for the Space of the Art Kickstarter campaign, and now released in this second edition in 2020.
Fit for passage on a starship, this deck feels and looks like the future. We manufacture each deck with solar-sail material, typically used to propel spacecraft with radiation pressure exerted by sunlight. This ultra thin holographic mylar is laminated onto the tuck box and card sheets before they are printed on or cut. This forms a strong bond to the paper that won't deform or peel, making that side waterproof and more durable than a typical playing card.
We then print the inks on the mylar material with a 2-ton sheet-fed offset UV printing press, and cure them with UV light, not an infrared heat tunnel. This yields a different feel to to the cards than our standard Classic Finish.
For designers as excited as we are about this process, you can even print white onto this material, under the colored inks, in order to block out certain shiny elements of your artwork! In this case of the Stratosphere deck, we printed a deep space blue color that fits with the theme, allowing the holographic solar-sail material to shine around those lines in full intergalactic glory. From famed and exclusive card designer
Nick Vlow
, looking at Stratosphere cards is like staring into the depths of the Milky Way. 
The card faces have no expense spared, each space man / astronaut / cosmonaut features metallic gold pantone ink visors, with a clear spot UV applied over the top to give it that extra shine.
Price starts at $14.20 and will increase as quantity decreases. To the moon and beyond!
A Stardust / silver flake edition of our solid carbon fiber card clip is also available, in limited quantity of 30 units.
DETAILS
Print Quantity: 1,000 decks (~900 available) 1st Edition Stratosphere
Card material: LPCC CLASSIC FINISH with Mylar laminated card backs (which adds ~.5mm height to the deck)
Custom ordered to LPCC specs, Black Core European Casino-Grade card stock with mylar lamination on card backs
Card coating: LPCC #201901 USA produced / water based
Card cutting: LPCC Diamond Cut / Traditional
Card backs: Mylar lamination (full foil) with overprinting
Card faces: Custom art - 3c, with gold pantone metallic ink and clear SPOT UV varnish
Tuck exterior: White coated paper with holographic mylar lamination and overprinting
Tuck interior: 1c interior printing
Press: Sheetfed UV ink offset press with UV and air curing
Manufacturing facility:
Legends Playing Card Co. e
xclusive
partner factory, 
PRC.