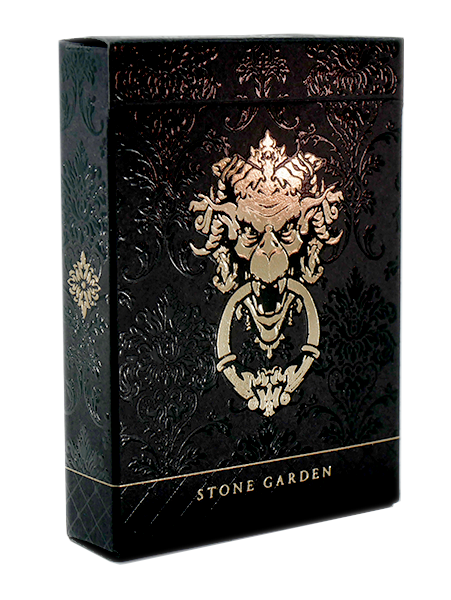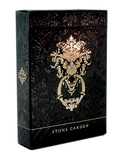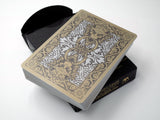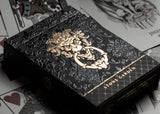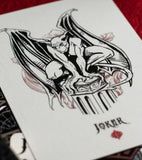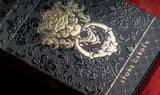 Stone Garden
Standing out against a dyed black paper tuck, take a look at how our ultra-thick Spot UV application glistens in the floral elements of the tuck box. Stone Garden is Masterfully illustrated by Jody Eklund of Black Ink Playing Cards. 
The unique features of this deck don't stop with the tuck box. We have imported a custom made-in-USA batch of coating for these cards, applied with a brand new state-of-the-art coating station and heat curing tunnel in our newest facility. Printed on Stud Finish with 4+ years in research and development, you've never felt cards like this before. Softer than any deck we have ever printed, including the rare 'Chosen' deck. Stay in touch with us on Instagram or Facebook and let us know your thoughts!
From the designer, Black Ink Playing Cards:
The Stone Garden Deck is intricate in detail, and elegant in execution. Inspired by the beautiful gargoyle stone work from medieval times. Their two main purposes were to scare off evil, and to divert rainwater.
It is believed the Catholic Church originally used gargoyle statues as a visual reminder to their Pagan converts, many of whom were illiterate. They were something of a "sermon in stone", or a warning of sorts to teach the people how to behave in a non-written way.
Intricately designed by Jody Eklund and printed with precision by Legends Playing Card Co.



Print Quantity:
 1,800
 decks
Card material:
STUD FINISH
Custom black core European casino grade card stock
Card coating: LPCC #201902 USA produced / water based
Card cutting: LPCC Diamond Cut / Traditional
Card backs: 2c pantone with Pantone 877c metallic ink
Card faces: Custom art - 4c
Tuck exterior: Spot UV - Clear Ultra-thick, Embossing, Hot Foil Stamping
Manufacturing facility: 
LPCC e
xclusive
partner factory
 with newly installed heat curing tunnel in 2020 / China