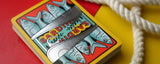 SARDINES
Missed the Kickstarter? Dive in now & catch the magic! 🐟✨
Discover the Limited Edition Pearlescent and High-Gloss Sardines Deck! Illustrated by the legendary Stacey Jay Kelly, this deck blends modern art with vintage Spanish sardine-canning charm. Featuring sardine tin card backs with exquisite hot-foil details, it's a collector's dream!
Printed on the silky-smooth VIPER FINISH™ by Legends Playing Card Co. Snag yours now!
From the artist:
This is a limited chance to grab a pearlescent tuck stock edition of the Sardines deck of quality playing cards designed by Stacey Jay Kelly at Squiddle Ink. The finish on this tuck is matt with a subtle shimmering pearl finish. Please see the following video to compare the two finishes...



With this deck, I wanted to walk the line between clean, modern art and vintage detailing, to create a deck that could be mistaken for a product packaged in an artisanal Spanish sardine-canning factory.

The card back is a two-way design depicting a sardines tin with the lid being peeled back to reveal four little sardines inside. It is a stretch goal to add a hot foil stamp to the area where the tin is peeled back, as though revealing the silvery metallic qualities on the inside of the tin lid. Another thoughtful feature is revealed when you fan the cards and see the sardines peeping out from the card edges.

The cards feature Viper Finish, Foil details on the card backs, an embossed, pearlescent or high-gloss tuck, and a custom seal. The courts, jokers, and ace are all fully customized. These cards are available now for anyone who missed the original Kickstarter campaign.

The cards are Manufactured by the incredible Legends Playing Card Company.
Feel the difference with a Legends PCC printed deck!
Print Quantity: 500 decks per color (500 Pearlescent tuck, 500 High-gloss tuck). 50 decks available here on LPCC.
Feel and Finish:
 VIPER FINISH™
 custom black core, European card stock
Card coating: LPCC #202100 USA produced / water-based
Card cutting: LPCC Diamond Cut / Traditional
Card backs: CMYK - full color. Custom.
Card faces:
CMYK - full color. Complete custom including jokers and court cards.
Tuck exterior: CMYK
Tuck interior: CMYK
Manufacturing facility: Legends PCC e

xclusive

 

partner factory, 

PRC.