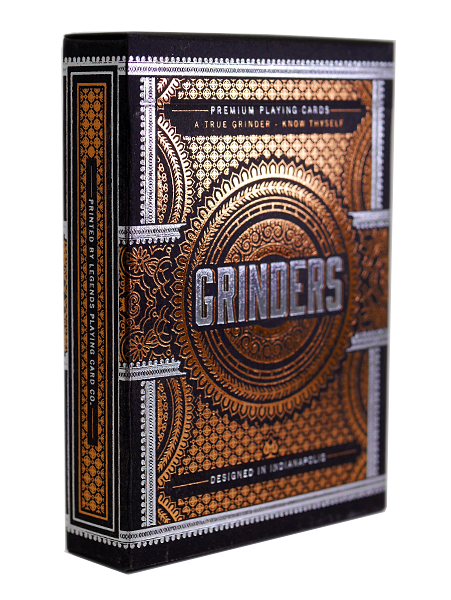 GRINDERS
Randy Butterfield does it again with the highly successful Grinders series of playing cards. We have a handful of the Copper and Blue versions, while the limited White version with holographic foil and numbered seal was for Kickstarter backers only.
One of our long standing customers and most talented artists, always willing to push the limits of playing card production, such as with the revolutionary Glow-in-the-dark Cosmic Lanes deck.
From the artist Randy Butterfield of Midnight Cards;
BLUE & COPPER DECKS
The Grinders Copper and Blue Decks are intricate in detail, and elegant in execution. Quality Playing Cards perfect for gaming, collecting, cardistry and magic. The Perfect Poker Pair!! Print Specs for the Copper and Blue Decks include:
• Silver Foil AND Blue Foil (Blue Deck)
• Silver Foil AND Copper Foil (Copper Deck)
• Printed on a Premium Black matte stock• Cards printed with Legends' excellent Classic Finish• Beautiful custom 6-Pack Box for Copper Deck
BACK CARDS & JOKERS
Below is an image showing (from Left to Right) the Red Joker (with Queen of Hearts reveal), and the Back Cards for the White Gold, Blue and Copper Decks.
COURTS CLOSEUP:
The Face Cards are designed for maximum playability. The Court Cards for the Grinders Decks derive from a more classical design than most modern Courts. I have elaborately decorated them with custom artwork - including intricate engraving designs, custom PIPS and handpainted outfit details. Below is a closeup of the Spades & Hearts Jacks