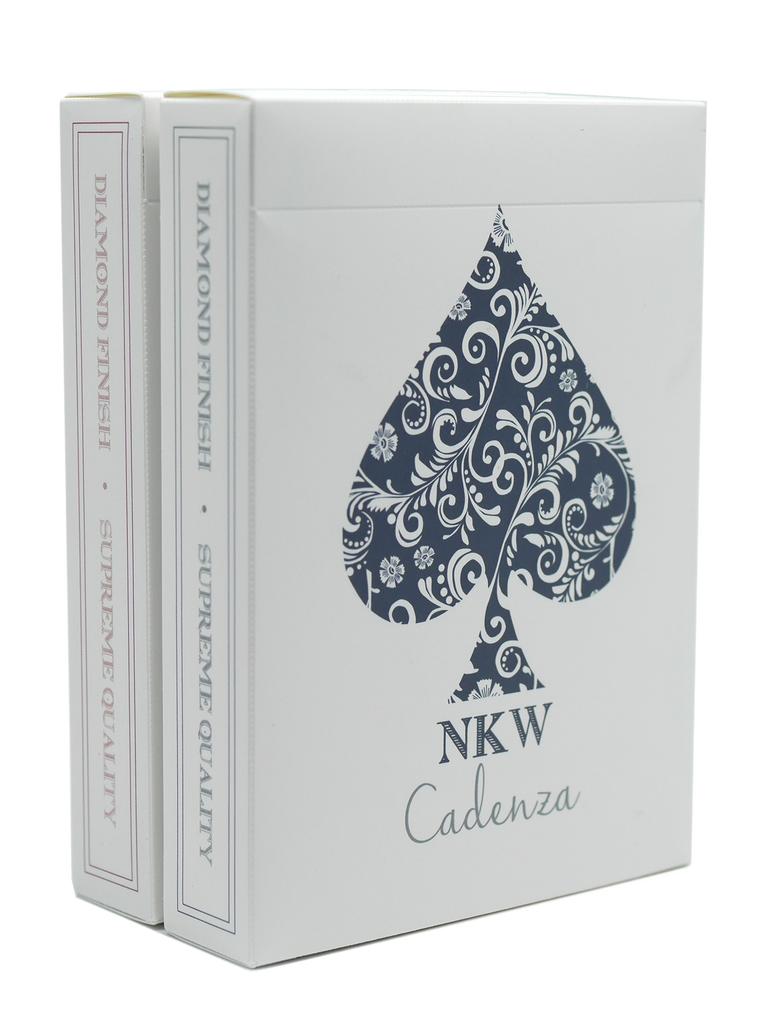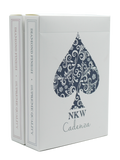 CADENZA
Cadenza Playing Cards by NKW Playing Cards
EXTREMELY LIMITED - ONLY 700 DECKS PER COLOR AVAILABLE WORLDWIDE


The most elegant way to learn and perform the Tamariz stack.


Cadenza is a deck designed with the working magicians and cardists in mind. The deck comes in two carefully chosen Pantone colours, vintage blue and vintage red. The tuck that houses the cards has a simple and elegant design, using extremely durable synthetic paper, which is waterproof and tear proof.
Features:
Hidden in the vintage floral back design are several powerful features that allow you to perform miracles. Cadenza comes with 3 different marking systems (same for both the blue and red decks), each with its own features and functions. Two of them (working independently) tell you the identity of the cards, and the third tells you the Mnemonica number of that card. And by the way, the deck comes in Mnemonica order out of the box.


Gaff cards:
Each deck comes with two gaff cards, and two jokers.
-Blue deck comes with a 7S/QH double facer and a novel sexy queen (which can be used for comedic revelations)
-Red deck comes with a double backer and a "Banker" gaff card to enhance your monte or gambling routines. 


Cadenza uses Legend's diamond finish, known to be snappy and long lasting. Also, when you purchase any of the red or blue decks, you gain access to an e-book that explains all the marking systems, the gaff cards and the tricks you can do with it, for free (by scanning the QR code that is printed on the card case). The e-book will be updated from time to time as ideas get collected and put on paper. Order yours now with the early bird price, and before all stock is gone!


1st edition limited to 700 sets sold worldwide
First 200 sets (1 red, 1 blue) at the early bird price of $30
Remaining 500 deck sets 
(1 red, 1 blue)
 at standard price of $40
12 bricks (6 red, 6 blue) available at $190