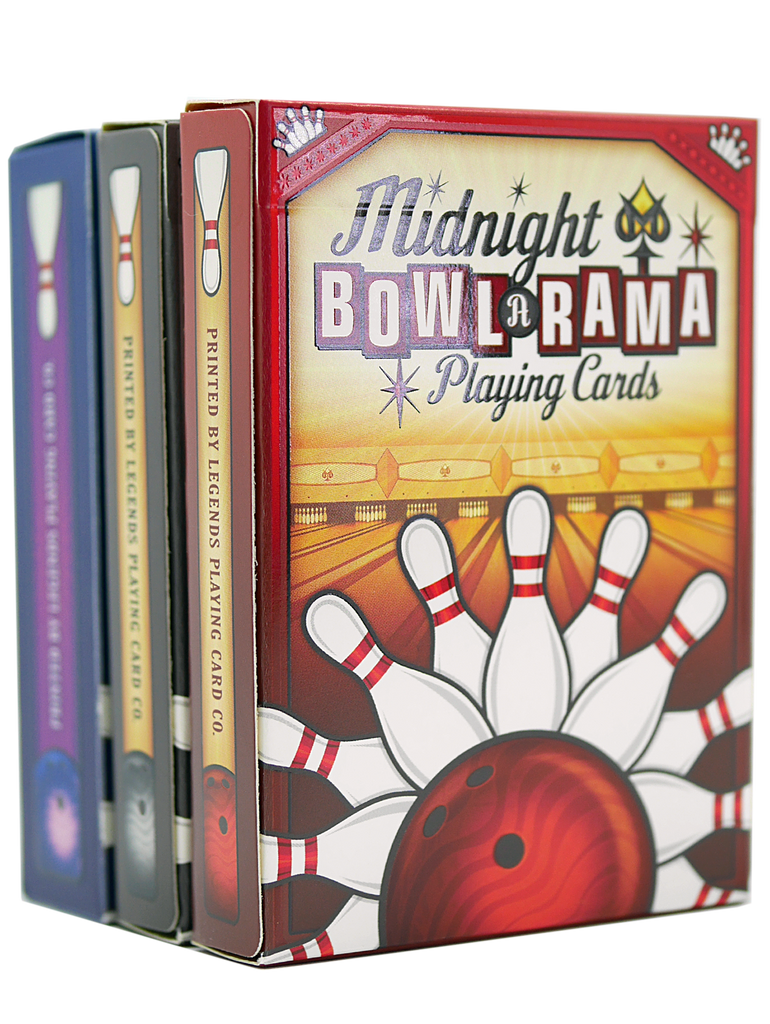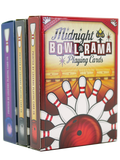 BOWL-A-RAMA
BOWL-A-RAMA poker pair, and MIDNIGHT BOWL-A-RAMA are three of the most funky and colourful decks released this summer! 
The poker pair is a comical deck of cards featuring bowling team names and an creative retro-inspired vibe.
The cosmic / midnight deck is an extremely innovative glow-in-the-dark deck of playing cards! Printed on PVC plastic and coated with glow ink over specific parts of the cards, you can see them when the lights go out! A truly unique deck of playing cards, and one of the most exciting innovations for us the entire year. 
We only have a handful of these available on our site, so snatch them up before you strike out!
Quoted from designer Randy Butterfield;
Playing Cards and Bowling COMBINED into the perfect match – like Peanut Butter & Jelly, Milk & Cookies, Salt & Pepper.
The Midnight Bowl-A-Rama designs have been in-progress throughout most of 2014, for about two hours each night. I'm proud to finally let them loose and see what happens. Let the Pins fall where they may!
My favorite part of the Bowl-A-Rama Cards are the extremely unique Numbers Cards. The Aces through Tens on both Decks are designed to look like an overhead view of a Bowling Pins setup. 10 Pins = 10 possible PIPS, and plenty of different scoring leaves.
As a kid, I grew up Bowling on Leagues with my three brothers. It was a blast! Part of the fun of Bowling on a League is the creative and clever Team Names people come up with. The Numbers Cards for both Decks include easily readable, but subtly positioned, unique Team Names (80 different Team Names in total!). Most of the Team Names I chose are found in Bowling Alleys around the world. About a quarter of the Team Names are names I made up or chose to reference my personal life.
BLACK DECK: "Four Butterfields of the Apocalypse" – I'm the oldest of four boys, and I love a good apocalypse Movie or Television Show.
RED DECK: "Bowling the Midnight Oil" – modified from the phrase Burning the Midnight Oil, this name describes my work as Midnight Cards perfectly! Because of my busy full-time career, I work on Playing Card designs solely at night - usually from 10pm to Midnight or 1am.
The Tuck Boxes are colorful and have a cool retro vibe going on! The Bowl-A-Rama Logo design is inspired by Bowling Alley Signs from the '50s and '60s. Adding the "Midnight" moniker to the Bowl-A-Rama name serves two purposes. 1 - It illustrates that this is my most personal design yet and 2 - it's a little nod to all of the big Playing Card companies that make Decks for their X-brand "Casinos".