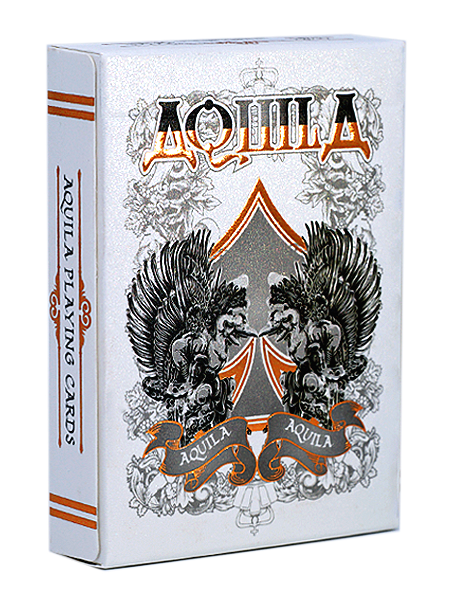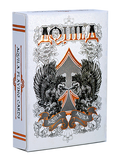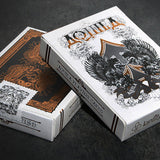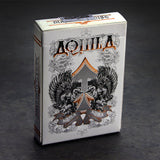 AQUILA
WINNER of the Deck of the Year award, 2014. Best overall deck, best tuck (Aquila LE), Best reveal card!
Only around 250 decks available on LPCC. A beautiful deck, nominated for 2014 deck of the year, and featuring a very clever marking system, which magicians will find useful.
Printed on our Diamond Finish paper, with super smooth Diamond Cut edges.
Quoted from Kardify.com;
Kardify Projects is proud to announce a collaboration with Three of Clubs from Indonesia, for the release of Aquila Playing Cards on Kickstarter. Aquila is the result of months of effort, meticulous card design, refinement and planning of the collaboration. This will be the first for Kardify Projects. Our goal is to produce not only a quality product, but one that can be enjoyed by all Playing Card aficionados in a truly limited offering.

Aquila Playing Cards is inspired by Balinese mythology- exotic, elegant and beautiful. The Aquila designs encompass two decks of different custom Playing Cards, the Standard Edition (White) and Limited Edition (Brown). They are accentuated by exotic and elegant details throughout with an intricate borders on the back and beautiful background patterns on the face card.
Each of the court cards is custom and unique, which exemplify the uniqueness of the two decks. There are only 1,500 Limited Edition decks available and once these reward tiers are filled, they are sold out and never to be printed again. This meticulously designed deck of Playing Cards will be printed by the Legends Playing Card Company (LPCC), producers of the popular Legends and Exquisite brand of playing cards.