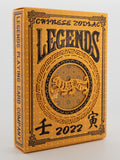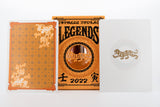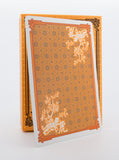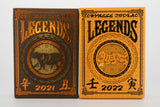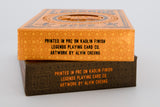 ZODIAC 2022 - Year of the TIGER
2022 YEAR OF THE TIGER
A deck of playing cards to represent this past Year of the Tiger. More specifically, 2022 is the year of the water tiger, never to be repeated for another 60 years! 
The card back design, along with its vivid color scheme, symbolizes both modern design language and the retro feeling of the 1970s.

A lucky charm for those ready to move forward with their life and make new changes, the Year of the Tiger playing cards are a perfect gift for your friends or family.

We are planning to release a new deck for each year of the Chinese zodiac, celebrating each animal's real-life counterpart.
TECH SPECS:
LASER CUTTING, ultimate precision for designers.
Extremely limited to 800 units sold this year. Will never be re-printed. This deck release showcases many new possibilities for high-end playing card packaging and production.

Laser cutting. We make it easier than ever for you to add this technique to your custom deck print run of 900 decks or more, with priority going to our previous customers. LPCC pioneered custom die cuts with our Legends #852 v.2 tuck nearly 10 years ago, and laser cutting takes this idea to the extreme. Cut intricate patterns into your tuck box, or add hidden card reveals!
Kaolin Finish. We procured 6,000 sheets of a very special ultra-rare Japanese-origin paper. It features an extremely precise grid-like embossing pattern and different feel than our other paper offerings. The paper specs impressed us, so we decided to give it a shot with our custom made-in-USA coating and Diamond Cut edges. We were very pleased with the results! 

The tuck box features pearlescent orange tuck paper, which we printed a light pattern, followed by black hot foil stamping and laser cutting.


The artist, Alvin Cheung was commissioned by LPCC to design this beautiful deck. The circles on the card back create an optical illusion where the squares are more subtle in the background. Very subtle but clever and meaningful design. He created a clean yet modern Chinese style, with squares being more associated in Chinese patterns and architecture. Wonderful execution and we hope to print the entire set of 12!
Extremely limited to 800 units. Will never be re-printed.
Note: we had a mis-print with this deck and the 3 of Diamonds only has 2 pips, we have included an extra printed 3 of Diamonds with each deck ordered. 
Print Quantity:
 800
 decks
Card material:
 KAOLIN
 FINISH
Ultra-Rare Japanese origin casino grade paper stock
Card coating: LPCC #201902 USA produced / water based / heat cured
Card cutting: LPCC Diamond Cut / Traditional
Card backs: CMYK
Card faces: Custom art - 4c
Tuck exterior: Laser cutting. 3D embossing. Hot foil stamping. 1c Metallic ink.
Manufacturing facility: 
CELT Co. - LPCC
partner factory
 with newly installed heat curing tunnel in 2020 / China