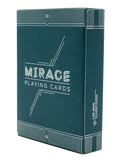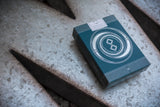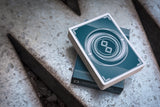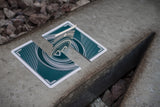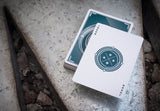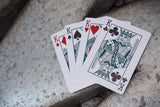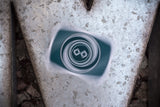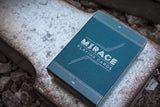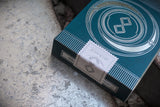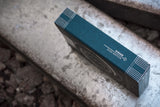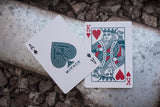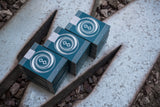 MIRAGE by Patrick Kun
RED version available now
Introducing MIRAGE playing cards; an elite deck of playing cards c

onceptualised by 

Patrick

 Kunover with assistance from Simon Black/Toby. Over a year in the making, these playing cards have seen constant aesthetic changes influenced and refined by multiple artists. The Mirage deck is a master-level work of art into which countless vials of blood, sweat, and tears were spilled.
The back design features a dark blue hue reminiscent of the night sky, with four corners resembling epaulets on a uniform. The crosshatched pattern on either end of the deck showcases a crystalline, multifaceted pinstripe garb that serves as a quasi-3-dimensional illusion within the background of the card.
Illustrated based on the work of M.C. Escher, the twin diamonds branded in the middle of each card are impossible objects harkening to the designer's logo, encircled by an infinite staircase. The faces, while standard, are altered in color in order to complement the back design. The Jokers feature the four suits present in every pack of 52 pieces of painted pasteboard, while the ace offers a hypnotic design that is no less of a mirage than the back  or the deck itself as a whole. Plastered underneath is simply the word, "MIRAGE", with every letter representing the very same optical illusion found in the back design's epicenter. 
Printed by the Legends Playing Card Company (LPCC), the Mirage deck features LPCC's Classic Finish card stock, a soft and 'papery' feeling stock which requires no break-in period. These cards are traditionally cut with Legends' Diamond Cut process, yielding ultra smooth edges that faro effortlessly from the bottom to top. With a silky coating and quality reminiscent of Bicycle #808 decks from the early 90's, MIRAGE is perfect for any card enthusiasts sleight of hand, cardistry, or gambling needs. As is always the case with LPCC, the borders on these playing cards are registered to extremely tight tolerances, as their standards allow for zero imperfections.