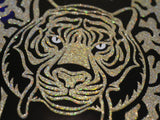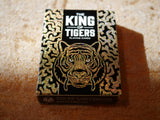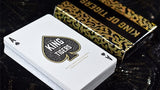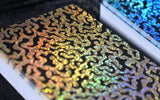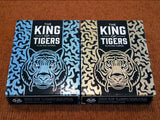 KING OF TIGERS
Outlandish, garish, classy, or sassy? No matter how you bite it, it's hard not to love this exotic deck. Wait until you hear how it's made!
Designed by Randy Butterfield for a Kickstarter campaign and inspired by true events and sparkley shirts.  The King of Tigers playing cards feature an animal print
pattern that's hot stamped with a gold holographic effects foil, resulting in a deep 3D glitter look - just like that 80's glitter shirt you own? The pattern for the back card extends over the Diamond Cut edges, creating a mesmerizing borderless design.
We worked closely with Randy with over eight sets of hard proofs to make this deck unique. Thicker glitter, thin glitter, big flakes, small flakes, holographic foil, standard foil. We tested it all! One of the benefits of being a customer of Legends is you can use our expert and extensive knowledge in the playing card and packaging industry.
The King of Tigers tuck box features black hot foil, gold holographic effects foil and a clear spot UV that's mixed with a light dusting of silver glitter flakes. This gives the tuck box a unique physical texture but doesn't rub off in the hand or look gaudy.

The bold Tiger face on the tucks includes a subtle horseshoe mustache (a nod to the crazy source of inspiration). No animals were harmed in the making of this deck, but Ricky Jay would surely love the challenge!
We hope you love these crazy decks as much as we do!
DETAILS
Print Quantity: BLUE DECK = 700 (500 to Midnight Cards, 200 here at Legends)
GOLD DECK = 2,100 (1,600 to Midnight Cards, 500 here at Legends)
Card material: PRE-CRUSHED / CLASSIC FINISH 
Black core European casino card stock
Card coating:
 LPCC 
#201901 USA produced / water based
Card cutting:
LPCC Diamond Cut / Traditional
Card backs:
1c black pantone with holographic effects hot foil stamping in full bleed
Card faces: Custom artwork - 4c / CMYK
Tuck exterior: White coated paper with black hot foil stamping, holographic special effects hot stamping, and Spot UV with physical glitter
Manufacturing facility: CELT Co. - exclusive partner factory with newly installed heat curing tunnel in 2020 / China