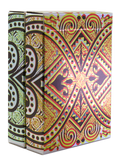 GLITCH 2.0
A new and improved LEGENDS version of the Glitch v.1 decks, created by Soleil Zumbrunn
From the creator;
// Bug Fixes:
New product features of GLITCH 2.0:
♦ New tuck art. More vibrant, more colorfull, more glitches!
♠ New card colors. GLITCH 2.0 is printed with NEON / fluorescent Pantone spot colors - no more CMYK dullness!
♥ New card designs. All cards have been revised and are much less headache inducing! Promise!