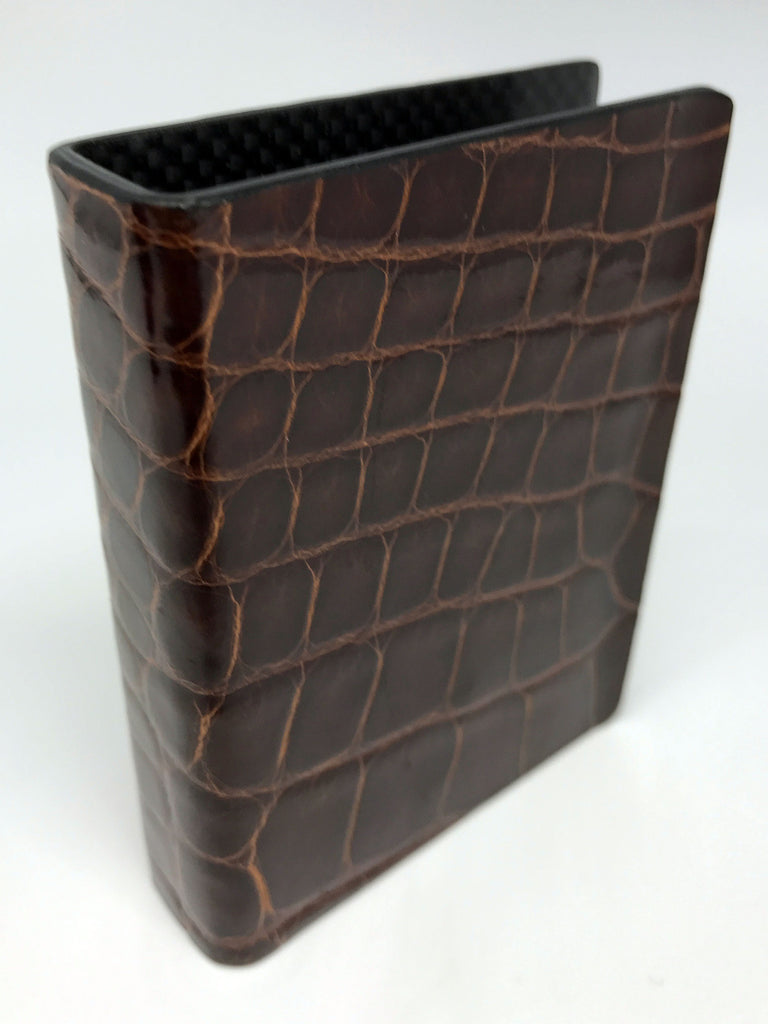 Alligator x carbon clip
Only 2 left in stock! The photos are of the actual items you will receive.
Genuine grade AAA Alligator hide. These clips are used daily by experts such as David Blaine and Roberto Giobbi. These clips are so rare, we have less than 5 made. 
Luxurious and rich black carbon fiber playing card clips. Coated in genuine Alligator skin, and finished with our exclusive hand-painted process to coat the edges, the same process used by luxury brands like Louis Vuitton and Dunhill.
Produced by Legends PCC for David Blaine and the Conjuring Arts Research Center, with identical technology employed in Formula 1 racing cars. Half as light as a metal card clips, and just as strong. Don't worry about the weight of your clip anymore!
New v.2 version, engineered in USA with a flat spine. Fits Diamond Finish, Classic Finish, and most USPCC decks. Very challenging to manufacture, we use pure pre-preg carbon fiber, no metal underneath or plastic "carbon look" sticker. This is 5-6 layers of real carbon fiber made into a playing card clip. The steel mold was precisely CNC'ed, then it is covered in a custom release agent, covered with a felt breather, and finally sealed in a vacuum bag. We then bake the clips in an autoclave at .5-3 bar pressure for 90 minutes. 
After de-moulding, each clip is hand cut and the edges sanded, with a gelcoat being applied, along with a UV coating. These clips are the best of the best, the highest technology available was used to make them. Keep in mind they are all finished by hand, so there will be slight differences in each clip, making them unique. 
[ *This item has been built and treated using special hand made processes and genuine Alligator Skin. The imperfections and irregularities present in its color and construction are intrinsic characteristics that increase its uniqueness and value and should not be considered flaws. Be aware that if your country has regulations shipping animal products, you will need to research this first and advise us when you order. For example, we are aware that Cobra skin is prohibited in California, USA.]