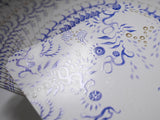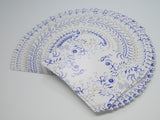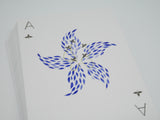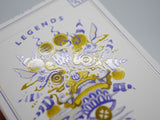 PORCELAIN
reddot Communication Design Award winner 2017!


PORCELAIN - Chinese Zodiac Edition
The Blue & White Porcelain deck was designed and illustrated by Shann Larsson as part of a project between the SCAD Collaborative Learning Center and the Legends Playing Card Company. 
The 'Blue & White Porcelain' deck features hand painted and digitally refined illustrations that are inspired by traditional Chinese blue and white ceramics. To mimic this as closely as possible, we have printed Spot UV varnish over certain parts of each card back as well as the tuck box, giving the artwork a highlight and shine that enhances the color and gives the cards that extra special, yet subtle, elegant touch. We can now offer this print service to any of our customers who want a similar feature for their artwork. 
Thematically, the design references the twelve animals of Chinese astrology. The zodiac animals of each face-card were individually hand painted in watercolor, with their edges digitally refined to create a clean, modern, yet subtly traditional work of art. Pattern like abstractions both construct the face-cards and serve as decorative embellishments to the tuck. The deck's geometric and organic forms also draw inspiration from modern Scandinavian porcelain.
The deck is a fusion of east and west, much like the city from which the deck was born – Hong Kong. The home of Legends Playing Card Co., bring you a new standard to playing card quality and innovation. 
Printed in a limited 1st edition print-run of around 1,000 decks, this is a truly special piece of art and design that you can hold in your hands!
Link

Design & Illustration