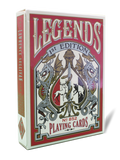 Legends #852 v.1
THE MAKING OF A LEGEND. A totally new feeling deck of cards that lasts forever (nearly). 

With an unassuming and basic looking tuck, this is the deck that started it all. Conceived, researched, and printed from 2009-2011 by  Legends' founder Lawrence Sullivan, with the help of Bill Kalush (of the later incorporated Expert Playing Card Co.), and magician David Blaine for his design advice and introduction to famed card artist Mark Stutzman. Legends #852 showcased game changing playing card quality engineered for and loved by working professional magicians. This is the first mainstream deck of cards printed outside of USPCC that felt and handled in a totally new but reliable, consistent, and enjoyable way. See more in the origins story of Legends. 

Stiffer, snappier, heavier, and thinner than a standard Bicycle deck, these decks are ultra durable and long lasting, with buttery smooth LPCC Diamond Cut edges. Double Lifts (a magician's sleight) stay together without sticking or slipping, and the front edges rarely bow, which can be a huge problem when performing with Bicycle or Bee decks that require a very closed variation of this move.. Faro shuffles (a magician and cardists tool for perfectly shuffling playing cards) are easily capable right out of the box, and the edges and corners of the cards almost never chip or deform over time, which makes faro's much harder.
The card's paper type, or Finish, is now what has evolved to Master Finish (though these are labelled as Diamond Finish due to the way the cards coating shines in bright direct light, which is slightly different than following decks due to the coating formula). Chock full of hidden secrets for you to discover, and intricate and well balanced artwork by Mark Stutzman. Labelled as "an instant collectors item" by the Conjuring Arts Research Center (CARC). 

The rare first edition of Legends #852.  Less than 200 decks in each color remain in the Legends Library. We may change the price, or stop and resume sales at any time depending on many factors. We may also giveaway some as special offers for top customers and friends of Legends.
Available in three colors, with the Jade Edition being rarest.
Printed in a quantity of ~3,888 per color. They sold out of the initial release quantity in days and became highly coveted among collectors, magicians, and poker players for their "glass-like" edges, durability, and printing precision. Word spread quickly, and the second edition of Legends #852 sold out in under two hours.